New President to Serve Area Latter-day Saint Mission
Gridley, CA (MPG) | By Cindy Scott
Share this pic with friends!
President Douglas Talley (center), new president of the California Roseville Mission, will work with Thomas Abinante (L), First Counselor, and Benjamin Payne, Second Counselor, in coordinating full-time missionaries serving from Roseville to Redding for The Church of Jesus Christ of Latter-day Saints. Photo provided by Heather Payne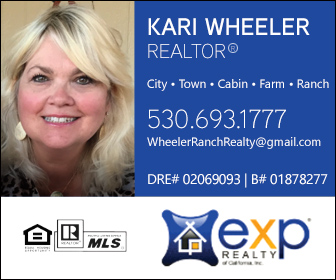 GRIDLEY, CA (MPG) - As with many other things, the California Roseville Mission of The Church of Jesus Christ of Latter-day Saints has seen great change because of the COVID-19 challenge. As of mid-May, the census of full-time missionaries serving Roseville north to Redding was down from 160 missionaries to 74 missionaries. Young adult missionaries that were within a few months of the conclusion of their service and all senior couple missionaries were returned home. Upon returning home, missionaries were required to fulfill two weeks of strict quarantine.
At the end of May, the Roseville mission began receiving reassigned missionaries who had been sent home and completed their quarantine. In May and June, 43 missionaries arrived, and 70 missionaries will arrive in July. By September of 2020, it is anticipated that 220 youth and senior couple missionaries will be serving in mission boundaries.
A senior couple is being assigned to the mission to specifically oversee the scheduling of the construction of the Yuba City Temple. Groundbreaking for the temple will be Saturday July 18, and will be an invitation-only, limited gathering due to COVID-19 restrictions.
President Douglas Talley has served in several church volunteer capacities, including Young Men president, bishop, stake president, and as a missionary in the Italy Rome Mission. Sister April Talley, his wife, has served as a seminary teacher, ward Young Women president, and stake Relief Society presidency counselor. They are from the Akron, Ohio area and have seven children.
President Thomas Abinante, First Counselor to President Talley, assists with missionaries and missionary work in the areas of Lincoln, Auburn, Roseville, Rocklin, Grass Valley, Nevada City and surrounding areas. He lives in Rocklin. President Benjamin Payne, Second Counselor, likewise assists in the Marysville, Yuba City, Gridley, Oroville, Chico, Anderson, Redding, and surrounding communities. He lives in Gridley.
President and Sister Talley began their three-year service July 1 and have been meeting all 105 missionaries by Zoom meetings. They will be touring the mission soon.